My father and I got an almost-private showing of morning practice for the minor league squads on Monday. We were lucky enough to run into Brandon Dickson's father outside the gates to the minor league side of camp. He got a guard to let him and us into the practice facilities at about 10:00am. Brandon was undrafted out of Tusculum College and was Quad Cities Pitcher of the Year in 2007 (according to his father). His numbers look pretty good, with a nice K rate, although his father said he was more of a grounball pitcher than a strikeout pitcher.
More observations from Monday after the jump.
While watching minor league practice in the morning I got an up close view of Tyler Greene and Pete Kozma going through middle infield drills. They both have very good hands, but I would give the edge to Kozma on his footwork around the bag. Greene didn't look bad, but Kozma seemed to be a little smoother and had quicker feet.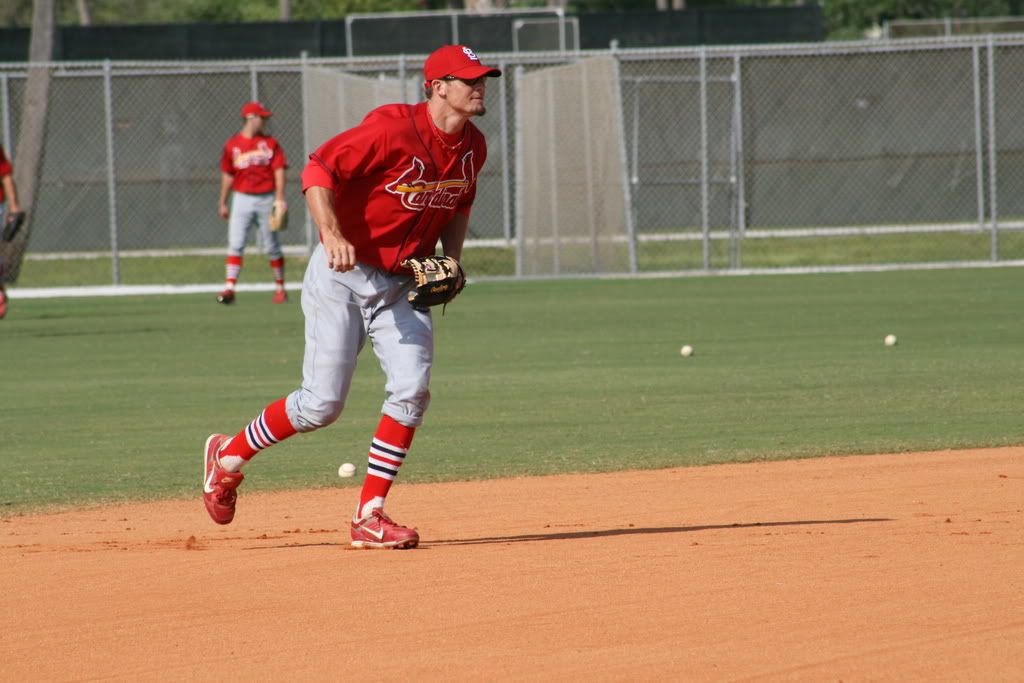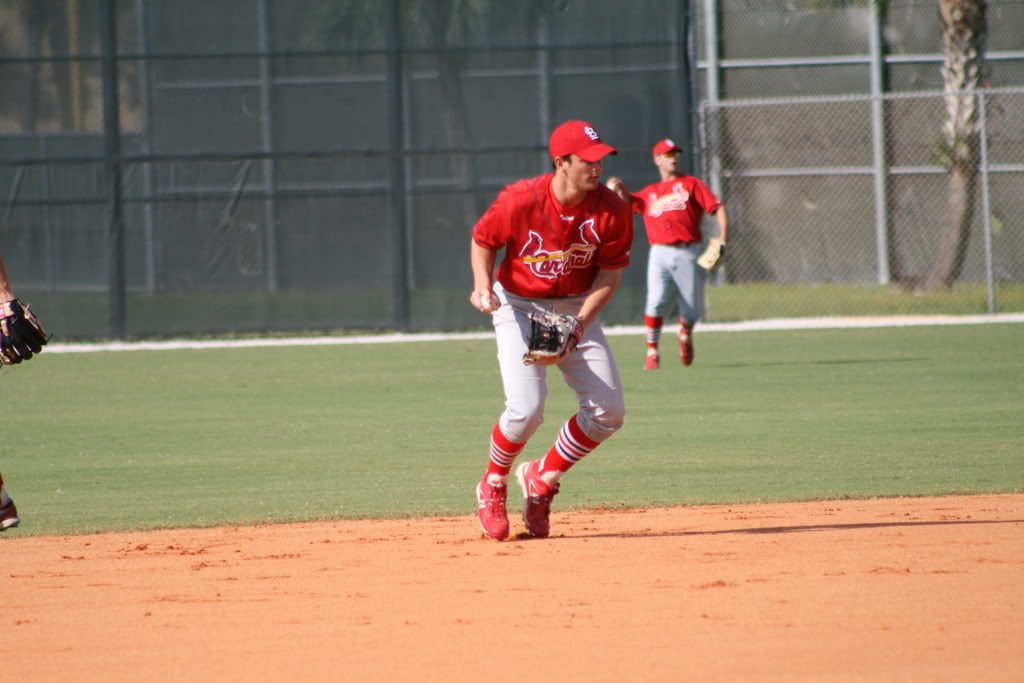 Greene                                                         Kozma
During the game, Kyle McClellan closed out the ninth and looked pretty impressive. He had nice pop on his fastball and his breaking pitches looked sharp. Here is a sequence of four pictures that show McClellan's motion: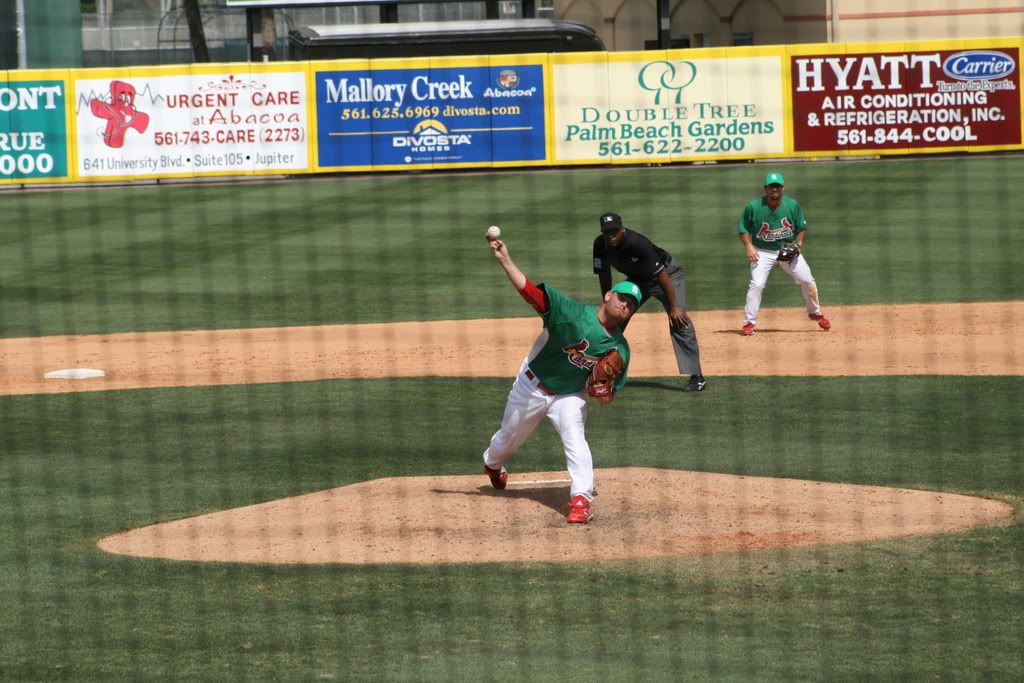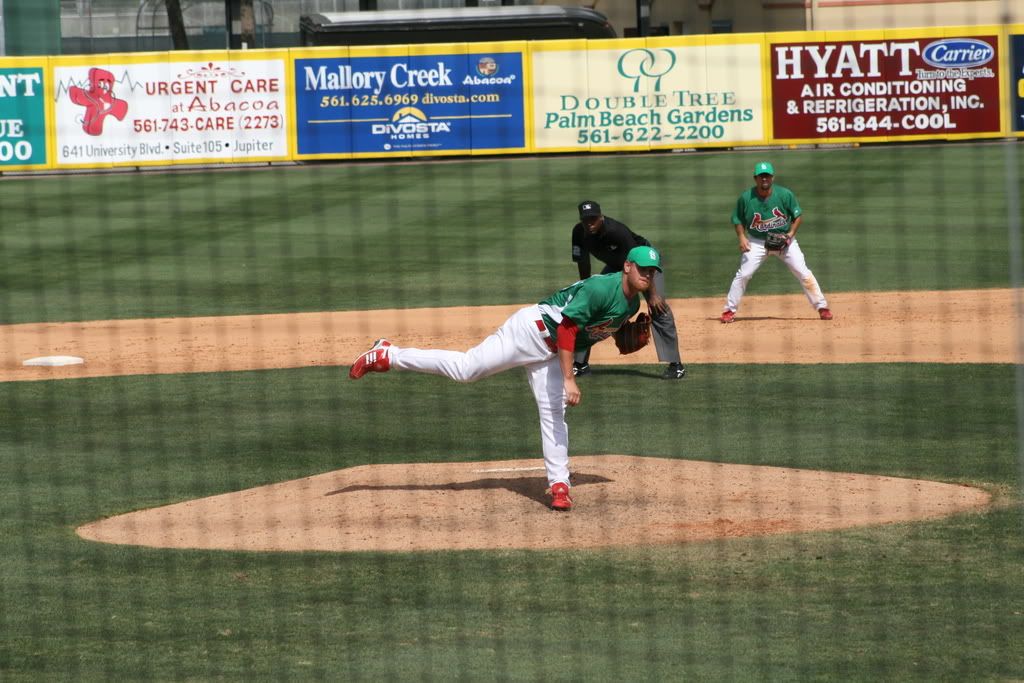 Brian Barton continues to impress, although each game he seems to make a mistake (like getting picked off today) and then almost immediately doing something to compensate (like scoring from second on a shallow single to rightfield).
Note that during the aforementioned pickoff, Brendan Ryan strayed off of third during the rundown and the Braves threw him out trying to get back to third (he was safe from my vantage point). Ryan was extremely slow in getting up and held his elbow gingerly as he walked back to the dugout, but he did come back out and finish the game at shortstop.
Tuesday: no big league game, but we will see what is going on with the minor league camp.