One last post about my trip to Spring Training and then I swear I'll shut up about it.  This one will be more observational and less photo-riffic (although I can't resist throwing a few more pictures out there).  So, after the jump I'll list the guys that made positive and negative impressions during my time in Florida.
Positive Impressions
Rasmus, Mather, Perez - I've talked enough about them.

Ian Church – At his age (27) he's not really a prospect, especially since he bounced around the independent leagues and he's never played above Palm Beach, but he crushed the ball in BP the day I saw him.  I'm not sure how many times we said "everybody looks good in BP" while we were in Florida, so it really takes something special (or awful) to garner attention – and Church's BP performance did that.

Luke Gorsett – Gorsett may not have the big league upside of guys like Daryl Jones or Jon Jay, but [warning: ambiguous Joe Morgan-speak ahead] the ball just sounded different coming off his bat. 

Allen Craig – I said in my Top 25 that I thought Craig was the most intriguing hitting prospect in the system outside of Rasmus.  Seeing him take BP did nothing to dissuade that opinion – he was completely crushing the ball.  One of my bigger disappiontments was that I just missed Craig and Freese taking grounders at third – I really wanted to see how he looked defensively.

Pete Kozma – I had the opposite reaction to Kozma in my Top 25, but I liked what little I saw of him.  I never got a chance to see him swing the bat, but he looked very good in the field during middle infield practice.
Negative Impressions:
Mark Hamilton – Mark was taking BP in the same group as Craig and looked terrible.  I expected to see moon shots, but instead he was hitting these crazy linedrives with topspin on them so that they dove for the ground after getting out of the infield.  Perhaps someone out there with more knowledge regarding the technical aspects of swings can tell me what that means, but something was definitely off with his swing the day I saw him.

Tyler Greene – Greene didn't exactly do anything poorly, he just didn't do anything that looked all that great.  He made all the plays in infield practice, but compared to Kozma he looked a little plodding and like he was giving half-hearted effort.  He didn't do anything memorable in the cage, either.
Other interesting tidbits:
One day while I was snapping pictures my father got into an interesting conversation with one of the Cardinals scouts, Mr. Fick (I don't recall his first name).  Mr. Fick called himself the Grim Reaper because he was going around putting guys on his 'cuts list'.  He told my dad that it was a tough job because he had signed some of those guys and had sat in their house and sold their parents on the idea of their son playing for the Cardinals.  He was a nice guy with a tough job.

John Mozeliak sat one section over from my father's seats at the games – here is Mo just after he signed Kyle Lohse (maybe – they announced later that day):
Here is a picture of Mo trying to work out a deal with the Braves (if we trade for Brent Lillibridge, remember that I broke the story):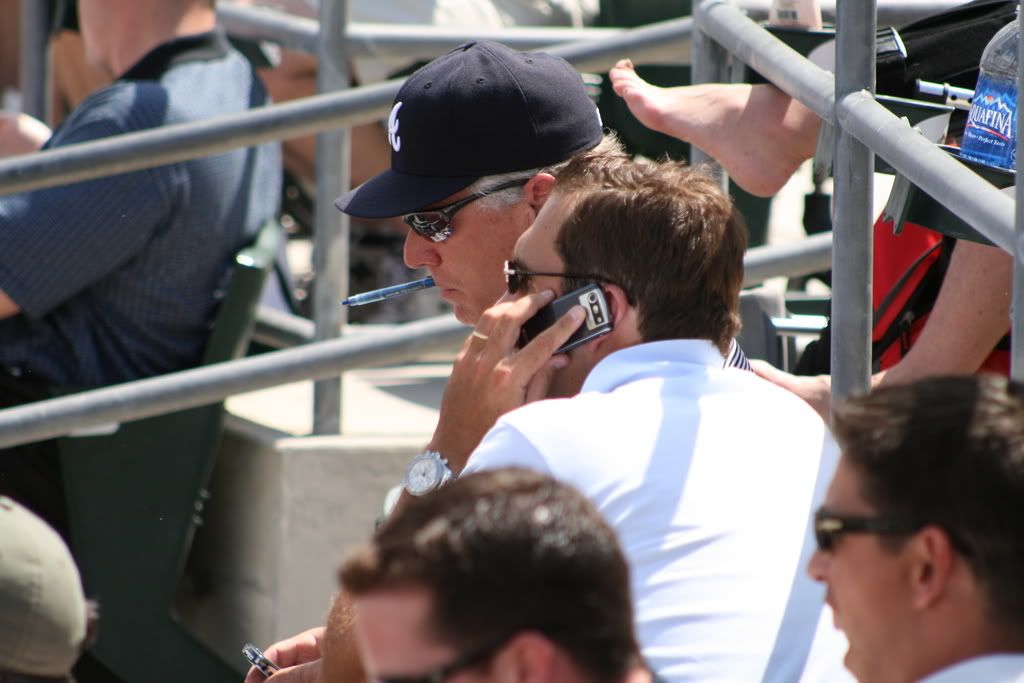 And finally, here is a picture of Mo getting fed up with me taking his picture: