Time wasting, away!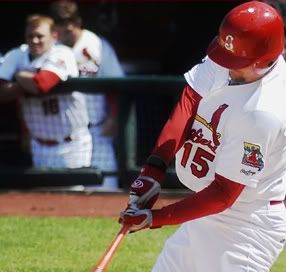 I'm being punished for my use of hockey in a baseball blog.  With Memphis back on the scene tonight, we had 5 games being contested in the system.
Springfield 2, Tulsa 1 (Game 1)
Springfield 4, Tulsa 1 (Game 2)
Another game with Daryl Jones sitting and only appearing late off the bench. I hope it was just a resting of a prized prospect in the 2nd half of a double header. They better not be holding him out for a potential trade because I will BURN THIS MOTHER TO THE GROUND!
Daniel Descalso continues his march into many a FR readers heart by going 2-for-4 with two doubles. I hope he called a cab. ZING!
My favorite Dutch royal citizen and yours, Curt Smith went Big Fly along with a walk.
Pete Kozma apparently watched MLB Network on Tuesday and realized what 'First Round Draft choice' actually meant. Kozma hit two doubles of his own, continuing his absurd XBH binge of the last two days. Pete also stole a base.
Brandon Dickson pitched 5.2 innings in the double-header shortened game. He held Tulsa to only 3 hits and 2 walks. They scored a run and he struck out 4.
Eduardo Sanchez picked up his first Texas League save with 2 innings of shutout relief.
Palm Beach 3, The Brevard County Courthouse Beer League Softball Team 6
Colt Sedbrook was 1-for-3 with a double, 2 walks and a RBI.
Tommy Pham phought oph his season long slumping to go 2-phor-phour. Pham pilphered a base, as well.
Jose Garcia continued the systems offensive SS play with a 2-for-2 of his own, smacking 2 doubles with 2 RBIs. He also had 2 errors. How Kozmanian of him!
Scott Gorgen only allowed 1 unearned run in his 6 innings. He struck out 6 and gave up 7 hits.
Thomas Eager picked up a hold and the lose in his 1.1 innings. Eager gave up 2 ERs on 1 hit and 1 walk. He struck out 2.
Adam Reifer took the blown save by pushing across Eager's runs.
Chrysanthemum Linares faced only 1 batter while Jason Buursma made a mess of things in the 9th, giving up 3 hits and 3 runs (2 ER).
Alex Castellanos (triple), Frederick Parejo (double) and Travis Mitchell (triple) all went 1-for-4. Parejo had an RBI.
Paul Cruz was 1-for-3 with a RBI in the 8th to tie the game at 2.
Niko Vasquez continues to show signs of life, almost earning himself more mythical tales. Going 1-for-3, Vasquez hit a walk-off sacrifice fly in the 10th inning, following Mitchell's triple. Interestingly enough, with 1 out and a runner at 3rd, Cedar Rapids elected not to load the bases and hope for the double play or atleast a force at any base. And, the OF'er caught the flyball by Vasquez, which makes me wonder just how deep it was and how fast Mitchell was booking it down the line.
The Mayor Gary Daley was strong in his 6 innings, holding the opposition to just 3 hits and 3 walks. He gave up an earned run and struckout 5.
Ramon Delgado gave up the other run of the game in his 2 innings of work.
David Carpenter took the win with a walk the only mark on his 2 innings.
With Colby Rasmus breaking necks and writing checks (wait, what?) at the Major League level, who is the next Faberge egg likely to be an impact player for the Cardinals and when do you see it happening? Greene and Ryan have both been good, but I don't see either being a league leader for years to come. If I had to put a guess on the next guy, I'd lay some money down on Mitchell Boggs figuring out his secondary stuff and becoming a strikeout machine in the Cardinals rotation.