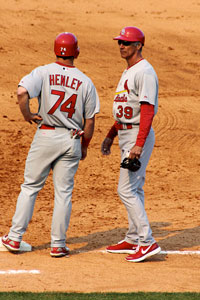 We will look at some more stats next week when the sample sizes get a little larger, but a few days ago the AP wrote a great article on Tyler Henley and his wife.  They basically sound like the perfect couple, who have moved 9 times to follow the baseball dream.  It's a not often covered angle of the minor league players we cover so diligently.  These are basically kids who have lives and concerns and worries outside of the baseball diamond.  Check out the full article here and the rest after the jump.
Tyler's salary has ranged from $1,100 a month while in Batavia, to roughly $2,100 in Memphis.

A signing bonus of $150,000 when Tyler was drafted has been put away and untouched except to buy Blair's wedding ring.

"I call it reverse poor," says Blair, a former all-conference tennis player at Rice. "We have money in the bank, but we don't spend it because we don't know how much longer it will have to last.
This is fantastic fiscal responsibility by the Henleys first and foremost, so kudos to them.  Secondly, these guys do not get paid very much on a week to week basis with the exception of the high picks.
You can also sense their disappointment with his demotion to Springfield this season, especially because it meant another move back to Springfield.
[Henley] rose to Triple-A in Memphis and got demoted to Double-A in Springfield, Mo.

Tyler learned about the move while he was on the road and passed it along to Blair in a text message: "Bad news, we're going to Springfield."

And just like that, she had to pack their life in Memphis and relocate to Springfield for a game the next day.
Additionally on ESPNW.com, Blair Henley herself writes an article about the trials and tribulations about being as she termed it "a baseball wife".
I know that Tyler Henley is one of AZ's pet prospects and after reading these articles, it is hard not to root even harder for the guy to reach the major leagues.  However, with the demotion to Springfield, it appears that there are quite a few young outfielders (including left-handers like Henley) ahead of him on the depth chart.
But, I know I'll be rooting for Tyler to make it to the major leagues.