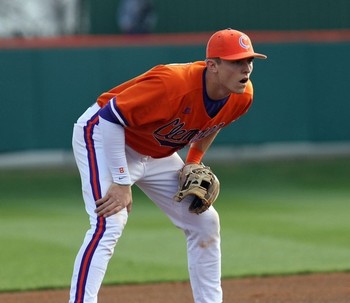 With the 2012 MLB draft less than a week away, it is time to take a closer look at another player that has been mocked the Cardinals direction.  In his latest mock draft, Jim Callis of Baseball America has the Cardinals selecting Richie Shaffer – 3B – Clemson with the 19th selection.  (He has the Cardinals taking high school arm Lucas Sims at 23, who was have looked at previously.)  Let's take a look at Shaffer after the jump.
Richie Shaffer looks to be an advanced college bat in a draft that is pretty devoid of any advanced college bats minus himself.  He's also got the "Cape Cod League alert" on him as he hit 6 HRs and 22 RBIs in 36 games on the Cape, which was enough to earn himself a spot on the Cape Cod League All Star team.  The Cardinals have in the past drafted a lot of early hitters that have performed well in the Cape Cod League with wooden bats.  Results seem to be mixed about Shaffer's ability to stay at 3rd base.  He certainly needs some work to stay there, but some have him transitioning over to first and others think he can play right field because of his strong throwing arm.
One of the better power prospects in the draft. Really impressive middle-of-the-order power potential. Needs to stay at third base to maintain significant prospect value. Becomes more of "just a guy" if a first baseman. Doesn't have the elite hitting and power ability to project as an everyday first baseman at the big league level. Could be an All-Star at third base on the back of his bat alone. Defense will need some work and that will decide how quickly he develops. Advanced approach at the plate should ease transition to pro ball and allow power to play quickly. Hard worker with enough raw skill to be an impact player long term. If you believe the third base defense will come, then he's a potential difference maker.
Elite college hitters tend to be the safest bets on draft day, unfortunately the 2012 Draft has one of the weakest crops in recent memory. Don't blame Richie Shaffer, he's done his part. The Tigers' third baseman is currently hitting .339/.479/.583 with as much offensive upside as any hitter in the draft.

Shaffer's strikeout rate is borderline for a college slugger (17.1%), but I feel that stems from his approach more so than being a significant mechanical issue. He gets pitched around some in the Clemson lineup and feels the need to try and hit the ball 600 feet whenever men are on base. Whenever Shaffer doesn't try to do too much and focuses on line-drives up the middle it's baseball porn. Hips and hands, balance, bat speed…I could go on, but I'll just say it's all there.
From MLB.com:
"Shaffer was a pretty good high school prospect a few years ago, but a hand injury and his college commitment contributed to a slide to the 25th round and he headed to Clemson.
Three years later, Shaffer is one of the more intriguing college bats in this Draft class. While there are holes to his swing, his bat is his best tool. He has plus power and can hit the ball out to all fields. He's played both infield corners, showing off a plus arm from third, but his range might be better suited for first. He's not a bad athlete and his power bat and arm might profile well for right field.
Shaffer is always going to have some swing and miss to his game. But his ability to be a power-hitting run producer will make many teams interested in living with the strikeouts."
Here's MLB.com's draft video:
Here's the Baseball America Draft Video and two at-bats against fellow potential 1st rounder in Marcus Stroman of Duke:
Here's Shaffer hitting in the Cape Cod League for a few at bats: