Michael Wacha
Junior, Texas A&M
Height: 6′ 6″
Weight: 195 lbs
DOB: 07/11/1991
Bats: R
Throws: R

AZ's Snap Take: I generally like Wacha and with the 19th overall pick, he's a good value. Some boards had him ranging into the top 10 talents and others had him more towards the end of the first round. At 19, this isn't a reach and represents a reasonable appraisal of his abilities.
And his abilities are that of a mid-rotation pitcher. Expect the club to scrap (or at least refine) his breaking ball almost immediately as it's universally derided as not working right now.  He's got a changeup that, as it does with many prospects, lags his fastball.  His fastball will sit comfortably in the low 90s with varying reports on his ability to give it some extra zip.
This pick doesn't wow me in the way that Stryker Trahan would. I want to call it a "safe" pick but that seems disingenuous since safe is often used as code for "bad".  I like Michael Wacha as a prospect. I like Michael Wacha as the 19th overall pick even if he wasn't necessarily MY first choice for the Cardinals. There's very little here to complain about.  There wasn't anyone left on the board that makes you look at this pick and obviously regret it today.
MLB Draft Tracker:
Wacha jumped on the prospect map very early into his Aggies career and while he's still the top college arm in Texas, he's not quite as high profile now as people thought he might be after the start of his college career.

Wacha reminds some of Jon Garland because of his size. He has a live, quick arm that can produce a fastball up to 94 mph, sitting comfortably in the 92-93 mph range. There might be more there, pointing to a future plus fastball. He can spin a curve, though some think he'd be better off throwing a slider at the next level. He doesn't throw a changeup much, but it could be an average offering. He can throw his pitches for strikes and goes right after hitters.

Even if he's not the elite college arm some thought he would be, he still has the chance to be a big, durable big league starter. And those don't grow on trees.
After the consensus top three college pitchers (Stanford's Mark Appel, Louisiana State's Kevin Gausman, San Francisco's Kyle Zimmer) go off the board, Wacha could be the next one selected. He owns the best changeup in the draft, a pitch that can be devastating when he sets it up with a 90-93 mph fastball that peaks at 96. His command also is as good as any pitcher in this crop, as is his competitiveness. He also has an athletic 6-foot-6, 200-pound frame and delivers his pitches on a tough angle to the plate. The only thing keeping him from being considered on the top tier of college arms is the lack of a plus breaking ball. Wacha made progress with a slider last summer under the tutelage of Team USA pitching coach Rob Walton, and he also throws a curveball. Wacha generally sticks with whichever breaking pitch is working best on a given day. Both pitches can get loose at times and project as no better than average at the big league level. Despite that one shortcoming, he still could find his way into the first 10 picks. He may not have the ceiling of Appel, Gausman or Zimmer, but Wacha has a higher floor.
Who he is: Wacha certainly passes the eye-test as a six-foot-six righty with long levers. His stuff is solid, with a plus fastball that sits in the low 90s and touches 95 and a true plus changeup, but his slurvy breaking ball needs considerable refinement. His delivery is easy and he throws a ton of strikes, which should help him speed through the minor leagues.
Draft skinny: Wacha's upside is as a No. 3 starter—more likely a No. 4—but his status as one of the safer picks will likely have him picked higher than this ranking.
ESPN (Jason Churchill):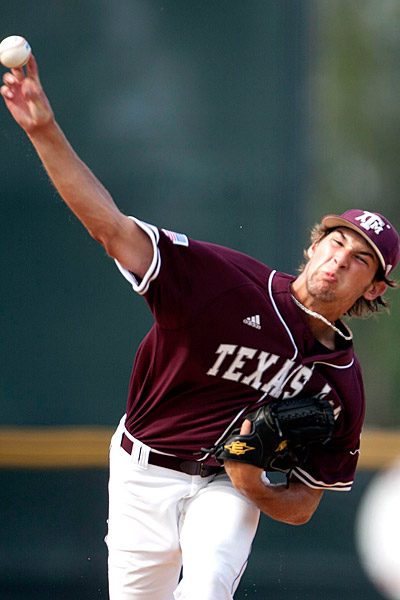 Wacha's calling card is a fastball-changeup-command combination that could push him through to the big leagues rather quickly. He's 6-foot-6 and has good arm speed and a consistent delivery. He uses both a curveball and slider, but both are below average. The Cardinals could slide Wacha into their rotation in a few years behind their young stable of Shelby Miller (2009 first-round pick) and Carlos Martinez.
undecided on a major … career goal is to own a sports store … [...] … enjoys hanging out with friends in his spare time.
Potential for two plus pitches (FB and CH) with command of both. Relies too heavily on FB at times, at least in part because he lacks trust in the SL (or any breaking ball). Development of SL to even a "show-me" pitch would add another element to his game and allow him to become more refined in his pitch sequencing ability to work through a lineup. Works hard during his starts, doesn't get rattled and shows little emotion on the mound. With two plus pitches and command, chance to be a solid number three starter. With an added SL that can be relied upon regularly, slim potential to be a low-end number two starter.
This guy as a starting pitcher has a short career span in the majors. As a closer, he makes more money and pitches longer. That's my view on the subject. OFP 52 for me, but probably 55 for others. I am a strict grader.