Jacob Wilson
Senior, U of Memphis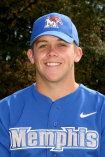 Height: 6'00″
Weight: 195lbs
DOB: 07/29/90
Throws: R
Bats: R
Jeff's Quick Take: Now it is clear what the Cardinals were doing in the a lot of the early rounds of the "new" MLB draft. Baseball America has a great breakdown of what chaos the new rules have brought. Basically, teams' bonus pools will be hurt if they do not sign a player in the top 10 rounds and if teams go "over slot" of 100k after the 10th round, that money will go against their bonus pool. However, if they fail to sign that player after the 10th round, they will not lose any money from the bonus pool. That increased the value of college seniors.  The Cardinals may have been ahead of the game by picking the best college senior they could find in James Ramsey in the 1st round.  But, that's for another post.  The Astros picked highly touted HS arm Hunter Virant with the first pick of the 11th round. This is highly messed up. Either way, forget the round, the Cardinals got a new player in Jacob Wilson, 2B/3B from Memphis. He has hit a park and schedule adjusted .414 wOBA this year with a good walk rate and not too many strikeouts. Reports after the jump.
Wilson won the Conference-USA player of the year:
University of Memphis senior third baseman Jacob Wilson, who led Conference USA in home runs, slugging percentage and total bases, was named C-USA Player of the Year today.

Wilson, a Bartlett High product, hit 16 home runs and drove in 62 runs during the regular season. He had a slugging percentage of .623 and amassed 134 total bases.
Via Phil Stukenborg on Twitter:
Interesting note on Mem 3B Jacob Wilson: He hit his 15th HR of the season in the 4th inn. Most HRs by a Tiger since Dan Uggla hit 18 (2001)
Here's a slideshow of Jacob "in action".
And here's a shakycam video of Jacob after hearing he won the C-USA player of the year.  (Seriously people, get a tripod, it is not that hard!)