All the round 31st through 40th round draftees are after the jump along with all the information I could find on the interwebs on each pick.
Round 31, Pick 960: Joseph Donofrio, RHP
Sr, U of California RHP


Height: 6′
Weight: 195 lbs
DOB: 05/10/89
Throws: R
Bats: R
Known as "Joey", Donofrio has pitched in relief for the Cal Bears.
Round 32, Pick 990: Eduardo Oquendo, SS
Olney Central College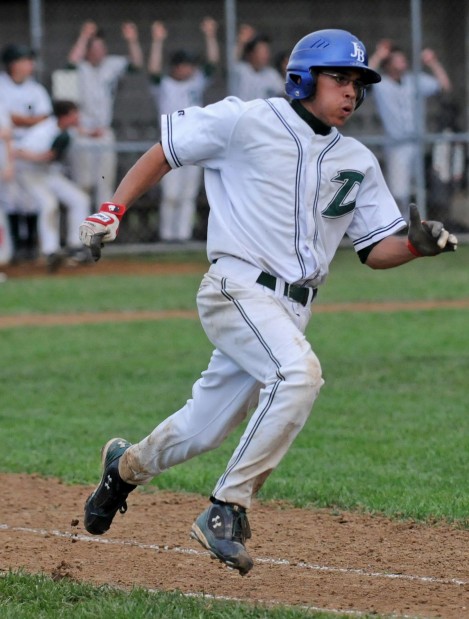 Height: 5'6″
Weight: 160lbs
DOB: 08/23/92
Bats: S
Throws: R
Eduardo Oquendo is obviously the son of Cardinals base coach and legend Jose Oquendo.
Olney Daily Mail:
Cardinals scouting director Dan Kantrovitz said the Cardinals had been keeping tabs on Oquendo for a couple of years, and had always liked the way he played the game.
"He's a slick-fielding middle infielder, probably not too different from his dad in that standpoint," Kantrovitz said. "He's obviously got excellent bloodlines. I'm not sure at this point whether or not he'll opt for professional baseball. He certainly has the talent to do it if that what he chooses to pursue."
Round 33, Pick 1020: Ronald Shaban, RHP
Sr, Virginia Tech

Height: 6'1″
Weight: 203lbs
DOB: 03/08/90
Throws: R
Bats: L
"Ronnie" only had 6 appearances this year on the mound as he spent most of the time as a hitter. He was drafted and listed as a pitcher, however. In his Virginia Tech career, he has struck out 34 and walked 16. He was supposed to be a position player and closer for the Hokies this season, but his season was derailed due to hamstring injuries. If the Cardinals can get him fully healthy, he could be a solid bullpen arm.
Round 34, Pick 1050: Mark Trentacosta, LHP
Jr, University of California – Irvine


Height: 6'3″
Weight: 210lbs
DOB: 09/30/90
Throws: L
Bats: L
Mark did not actually play for UC Irvine this year, it was used as his redshirt year, per the school site:
2011: Utilized a redshirt year…played with the Corvallis Knights in the West Coast League…league's top closer with 11 saves…helped the team to a league championship…was voted a West Division All-Star and a first-team All-WCL all-star…made 24 appearances with one start…hurled 36.1 innings and struck out 42…allowed just five earned runs for a 1.24 ERA…was 4-1 on the mound and posted two saves in playoff action.
Round 35, Pick 1080: Benjamin O'Shea, LHP
Jr, University of Tampa


Height:6'06″
Weight:250lbs
DOB: 09/09/91
Throws: L
Bats: L
4. Ben O'Shea, lhp, Tampa: Unsigned White Sox' 10th-rounder has hit 92 with his fastball, which usually sits in the upper 80s
Round 36, Pick 1110: Alexander Swim, C
Jr, Elon University


Height: 5'11″
Weight: 180lbs
DOB: 03/26/91
Throws: R
Bats: S
A switch-hitting catcher?  You don't see that every day.
Elon University:
Swim was a first-team All-Southern Conference pick after he led the Phoenix with a .357 batting average in 2012. The Greensboro, N.C., native struck out just 13 times in 241 at bats this year. He also scored 39 runs, had 11 doubles, one triple, three homers and 45 RBI while starting all 59 of Elon's contests in 2012. During his junior season Swim put together a 25-game hitting streak, including back-to-back five-hit games.
In his three seasons with the Phoenix, Swim has hit .316 with 113 runs scored, 36 doubles, five triples, five home runs and 118 RBI. His 222 hits rank ninth in Elon's history.
Round 37, Pick 1140: Derrick May, OF
Tatnall School (HS), DE


Height: 6'2″
Weight: 185 lbs
DOB: 11/09/93
Throws: R
Bats: R
Derrick May Jr. is the son of Cardinals minor league roving hitting instructor Derrick May Sr. May is committed to play baseball at Villanova.
Max Preps scored an interview with the father and son:
"I'm a line-drive hitter, just like my dad," Derrick Jr. said proudly. "I've modeled my swing after his."
Like father, like son, Junior also approaches the mental part of the game like his pop.
"My father always played aggressively," he said. "But it was controlled aggression. I loved the way he played and that drove me to play like him."
Derrick Jr.'s drive is to one day play in the major leagues, and he said there is a good chance he'll be drafted in June. Neither his grandfather nor his father played in college, instead choosing to sign a contract right out of high school. Derrick Jr. wouldn't commit either way.
"I'm not sure what I'll decide," the soft-spoken young man said. "Time will tell. But either way I'm looking forward to the competition at the next level and having people who are there to help me improve my game. I'm always looking to get better."
Here's a mobile phone video of May in action:
Round 38, Pick 1170: Javier Machuca, LHP
Universidad del Turabo, PR


Height: 6″3″
Weight: 200
DOB: 11/21/1992
Throws: L
Bats: L
Even though the video quality is pretty poor, here is Javier at work for 9 minutes. He's a pretty good athlete, there are even hitting videos for him online. But, considering this one is uploaded by 'jmachuapitcher', I think is a good look.
Round 39, Pick 1200: Michael Aldrete, RHP
Jr, San Jose State


Height: 5'10″
Weight: 165lbs
DOB: 09/30/89
Throws: R
Bats: R
Aldrete had a unspectacular 7.56 K/9 and 3.51 BB/9 last year. He is the son of bench coach Mike Aldrete. Per the school site:  "Played in 32 games, 11 games as a shortstop (eight starts) and 21 appearances as a relief pitcher…Named to the Preseason All-WAC team as a utility player"
Round 40, Pick 1230: Ian Rice, C
Madison Academy HS, AL


Height: 6′
Weight: 195lbs
DOB: 08/19/93
Throws: R
Bats: R
Check out the videos Perfect Game has on their site. For some reason, I can't get them to embed correctly.
He's got a good swing and good fundamentals behind the plate. He's committed to Chipola College in Florida. No word if the Cardinals will have enough money in their draft budget to get him out of that commitment. From the look of the videos, it looks like he would be worth it.
Here is his personal statement from ncaasports.org:
I am a 6'1" 200 lb. 2012 catcher/3b from Alabama ranked 195 nationally, 9 in the State of Alabama and 18 nationally among catchers by Perfect Game.   I attend Madison Academy in Huntsville, Alabama where I have been the starting catcher since my freshman year, leading the team to their first ever AHSA Class 3A State Championship that year, and the following two years to Class 3A State Runner-up.  I was  picked for the Alabama AHSA All-Star Team and named to the PG Top Prospect Team 2010.   I was the starting catcher for the East Cobb Astros and East Cobb Braves. I helped lead the Astros and Braves to 6 National titles.  
I attended the Perfect Game World Championship in Jupiter this year for the second year in a row playing with the top East Cobb Team,  East Cobb Astros.  I also attended the Perfect Game Nationals, and was named two years in a row, 2011 and 2012, Under Armour Pre-Season All American. 
I attended the Perfect Game World Showcase in Fort Myers, Florida January 7 and 8, 2012, named as the 9th top prospect at the Showcase.  I am on the 2012 PG MLB Top Prospect List. 
Just named to ESPN All-State AL Top Player.   Finished Senior year with .450 BA, .780 slugging, 7 HR, 39 rbi's with a wood bat.
Here's an embeddable one: